About the New Mexico Silk Painters Guild:
Formed in 1995, New Mexico Silk Painters Guild is an organization of fiber/textile artists who work in various surface design media. We meet regularly to share our work and to plan our frequent group shows and occasional workshops. Surface Design includes silk painting, art quilting, wax resist (batik), shibori, and wearable art. Several in our guild are members of SPIN (Silk Painters International). We strive to maintain a group of friendship with the open exchange of ideas and techniques.
We are members of the Albuquerque Fiber Arts Council and participate in the Biennial Albuquerque Fiber Arts Fiesta. We are also members of Silk Painters International, sponsor of the Spin Festival, October 5-12, 2018, at Arrowmont, TN.

Find us on Facebook
---
We are showcased at the Albuquerque International Airport (the Sunport)
August 24-October 4, 2018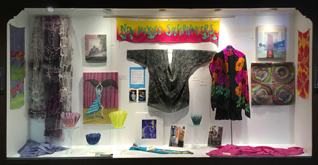 Click on the image to see the whole thing!
---
The 12th Biennial Juried Show & Fiber Arts Exhibition
in Albuquerque, New Mexico
May 30, 31, and June 1, 2019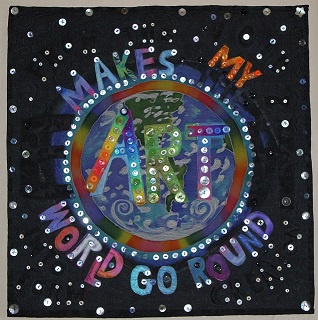 Our own member Judith Roderick was the Featured Artist for the 2015 Fiber Arts Fiesta!
(More about Judith below)
---
Congratulations to Judith Roderick!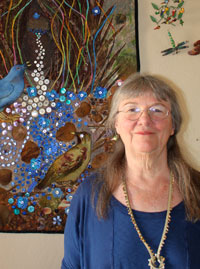 Judith was the featured artist for SAQA in September 2014!
I am an Artist, a Silk Painter who also makes quilts.  I have been painting on Silk for 30 years, and I batiked for 20 years before that.  I draw well, and love to depict Nature, the flora and fauna of the natural world. I have a great Love of the Earth and a great concern about the current trajectory of life on Earth. I love the beauty and diversity of what still exists here, and I do all that I can to preserve it, which includes its depiction in my work. I intend my Art as a Blessing.
Click here to see more.
---
See our work and that of other silk painters and surface design artists at these venues.

---
"Signs of the Past"

July 2–August 30, 2011 (archived)
Click here for images from the show.

---
Guild members work in a variety of techniques and many teach workshops. Visit our member gallery to learn more about them.
---
We use various materials and techniques to turn cloth into art. Check out our "techniques" section to discover some of our secrets.
---
Find out about classes and workshops taught by our members, as well as regional and national opportunities.


The finished quilt was shown at SPIN 2014
Click on the image to enlarge.


Members gathered to paint a guild quilt for the 2014 SPIN conference in Santa Fe.


A few of our members with examples of their work at a show at the Albuquerque Open Space Visitor Center.
---
Some of the galleries where we show our work
Hipstitch, Albuquerque NM
Weyrich Gallery, Albuquerque NM
Wild Hearts Gallery, Placitas NM
Yucca Art Gallery, Old Town, Albuquerque NM